6 duck eggs
1 can albacore tuna
1/2 pound salad shrimp
1/3 cup edamame
1/2 cup green beans cooked
3.5 oz package Gerber nature select baby food carrots
3.5 oz package Gerber nature select baby food peas
6 cloves garlic
Dry:
1/3 cup rolled oats
1/3 cup baby rice cerial
1/3 cup wheatgerm meal
1/3 flax seed meal
3 packets gelatin
1 tablespoon garlic powder
1 tablespoon paprika powder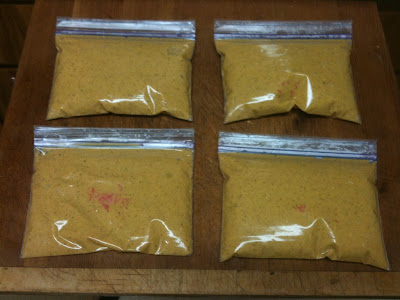 Blended in several batches and homogenized, then boiled. Three 2 cup bags and one 1 cup bag.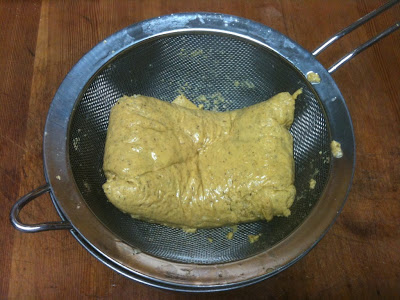 A 2 cup cake after boiling draining.
The cake and my new potato ricer. Much nice than the garlic press.
Parchment on a cutting board with rice cake.
Goldfish scramble.