Found an Aqua Ultraviolet Ultima II 2000 pond filter on craig's list for $100. Its new unused condition. Needs a base and pressure gauge.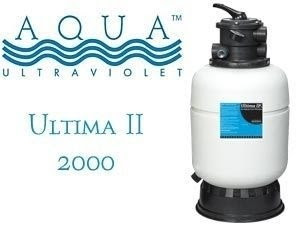 http://www.aquaultraviolet.com/products/filters/ultima2/2000
Patented cyclonic back wash.
Aqua Ultima II 2000 Bead Filter - Size: 33" Tall x 16" Diameter - Max flow 34 GPM - 1-1/2" Inlet/outlet - Comes with 1.50 Cu Ft of patented filter-media rated for 175 pounds of fish.
The specially designed media has 800 square feet of surface area per cubic foot of media and resists packing but captures solids effectively.
"To support aquatic life whether at an aquaculture facility, backyard pond or large aquarium system it is essential to remove both ammonia and accumulated debris. The most efficient way to accomplish this is by installing an Ultima II biomechanical filter. The patented media has the highest biofilm surface for bacterial growth, this beneficial bacteria converts ammonia into harmless compounds. The dense bed of ridged media traps solids without clumping. Internal jets in the filter are activated during the backwash separating the waste from the media and sending it out the waste line."